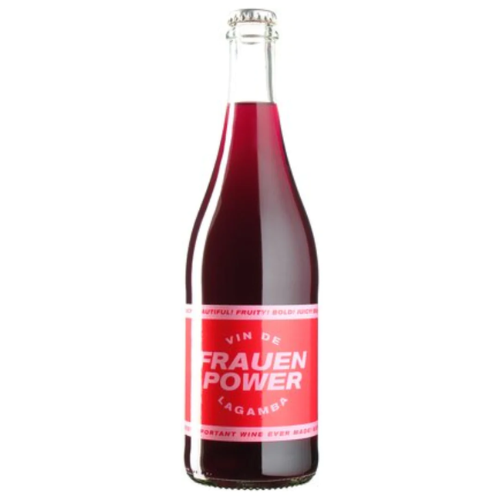 FRAUENPOWER! This fourth vintage comes from badass female producer Alanna Lagamba, using grapes from Martin Woerner.
The best description of this wine is that is tastes like a German Lambrusco!
For some more background on the name, Frauen-Power is an antiquated term associated with women who have struggled, sweated, and paved their own way to be able to play an integral role in this world. Winemaking historically has been male dominated, making the presence of women like Alanna in this space so so important. As written on the label, this is the "Most important wine ever made!" We don't disagree.
Notes of blackcurrant, grape, cola, fizzy sweets and lime.
Origin: Rheinhessen, Germany
ABV: 9%
USNW Classification: Natural
Varietal & Type: Dornfelder, Silvaner
Vintage: 2022
About the Winemaker
Canadian Alana LaGamba is behind Vin de Lagamba and at the forefront of the natural winemaking revolution that has put the Rheinhessen on the map. Along with Martin "Marto" Wörner, Alana is one of the many young winemakers changing what we thought we knew about German wine. The wines are made with low intervention at the vineyard and winery, fermented with wild yeast, promoting skin contact maceration, and bottling them unfined and unfiltered. These are wines with personality. Alana's enthusiasm is undoubtedly unmatched, and her wines are spontaneous — this is creativity, and you can taste it in the wine glass.
Shipping Details
US Natural Wine ships once a week, every Wednesday. All orders should be placed by Tuesday at 10am in order to be picked up from our distributors and out on Wednesday's delivery truck.
Shipping cost is 18 bucks a box (up to 12 bottles) so we highly encourage picking up more than 1 bottle for the best value!
At $18, we have some of the most competitive shipping rates compared to other low-intervention wine e-commerce, which can range from $20-$25 a box. Ultimately, we eat the cost of shipping more often than not because wine can be damn heavy. As a small business, we are simply unable to offer free shipping. We can't thank you enough for your understanding!