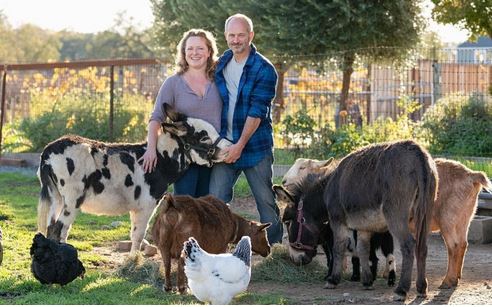 2022 "Wiley" Carbonic Carignan
"Inspired by our kitten, Wiley, a carbonic soul. A true carbonic carignan, sealed in tank for 2.5 weeks, then pressed back to stainless to finish fermenting and aged 4 months. Intense fresh berry aromatics leap out of the glass, both complex & fun flavors, that belie its youthfulness. Wiley has grown from a kitten to king of the farm, and like his personality, this vintage is slightly more serious, though still playful.  10.7% alc. Serve slightly chilled. 300 cases crafted."
Origin: California
ABV: 10.7%
USNW Classification: Natural, Organic
Varietal & Type: 100% Old Vine Carignan
Vintage: 2022


Winemakers
Two Shepherds focuses on Rhône and uncommon varieties, often from the only
few acres available in California. While their total production is small, the offerings are vast. Nicknamed 'insane master of small lots', William crafts about 15 different wines each vintage, including some that are only 1- 2 barrels. Their old world style, free from manipulation, allows for the true expression of the
variety, vintage and vineyard.
Shipping Notes
US Natural Wine ships once a week, every Wednesday. All orders should be placed by Tuesday at 10am in order to be picked up from our distributors and out on Wednesday's delivery truck.

Shipping cost is 18 bucks a box (up to 12 bottles) so we highly encourage picking up more than 1 bottle for the best value!

At $18, we have some of the most competitive shipping rates compared to other low-intervention wine e-commerce, which can range from $20-$25 a box. Ultimately, we eat the cost of shipping more often than not because wine can be damn heavy. As a small business, we are simply unable to offer free shipping. We can't thank you enough for your understanding!