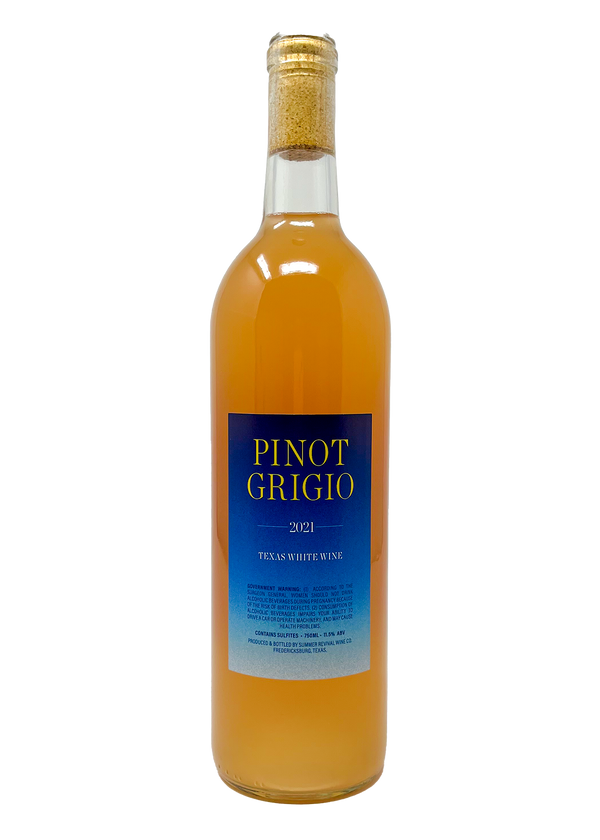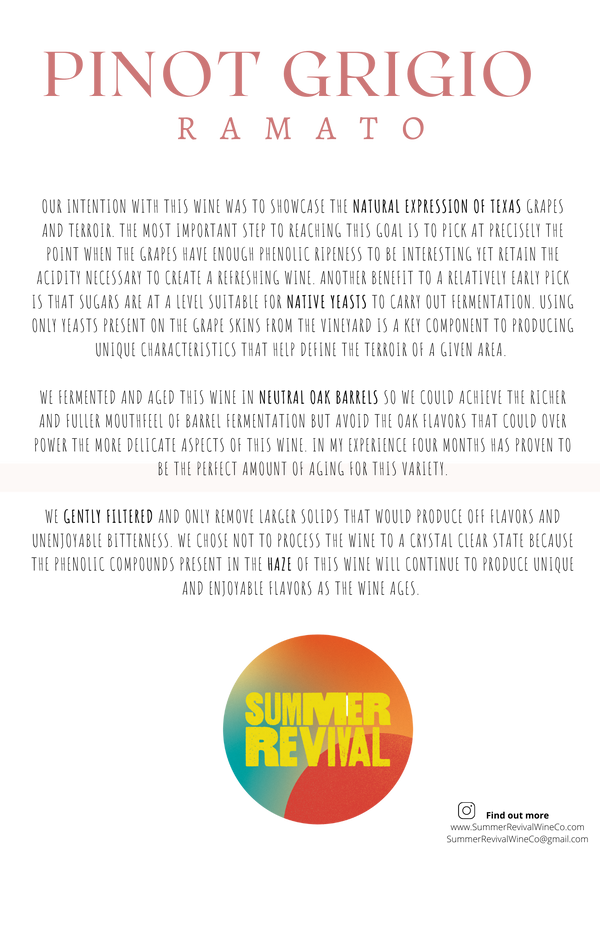 Origin: High Plains Grapes, Made in Fredericksburg, TX
ABV: 11.8%
USNW Classification: Minimal Intervention
Varietal & Type: 100% Pinot Grigio
Vintage: 2021
Y'all, I could not stop drinking this wine. 
Muchas Gracias, Capitalism, for ruining Pinot Grigio (or Pinot Gris as the West Coasters call it). In the mid-90's, Pinot Grigio was everywhere. Inexpensive, dispensable, and favored by my mom's friends as their book club wine of choice. But I'm calling it.
This skin contact Pinot Grigio by Summer Revival is the PR crew who's cleaning up PG's bad wrap. You heard it here first. Made by Ian Atkin's- the mastermind behind Flat Brim Wines in Oregon- this stunning wine screams Texas; Transporting you to a sunnier location sip after sip.
Mouthwatering acidity with notes of citrus, grapefruit rind, a touch of saline on the nose with the smooth, clean finish. Native yeast fermented, 30 hours on skins, and 4 months in neutral oak barrels. Lastly, Ramato is gently filtered, removing large solids and maintaining a gorgeous haze. I placed the meter just past the halfway point, closer to 'reckless' due to the unique style, texture, and drinkability of this wine, and it being unlike any other Pinot Grigio you've ever had.  
BEST ENJOYED SLIGHTLY CHILLED
About the Winemaker
Summer Revival is husband and wife team, Ian and Becky Atkins' latest project. After spending 8 years in Portland, OR building Flat Brim Wines, they followed their roots  back to Texas. At this time, Summer Revival has one vintage; the 2021 Pinot Grigio. Summer Revival favors mouthwatering high-acid wines, with low-alcohol that represent Texas' terroir through minimal intervention practices. 

Keep an eye out for Summer Revival Wine Co. / Picnic House tasting room. Opening in Dripping Springs, TX this Spring, 2022. You know we'll be there! 
Shipping Details
US Natural Wine ships once a week, every Wednesday. All orders should be placed by Tuesday at 10am in order to be picked up from our distributors and out on Wednesday's delivery truck.
Shipping cost is 18 bucks a box (up to 12 bottles) so we highly encourage picking up more than 1 bottle for the best value!
At $18, we have some of the most competitive shipping rates compared to other low-intervention wine e-commerce, which can range from $20-$25 a box. Ultimately, we eat the cost of shipping more often than not because wine can be damn heavy. As a small business, we are simply unable to offer free shipping. We can't thank you enough for your understanding!