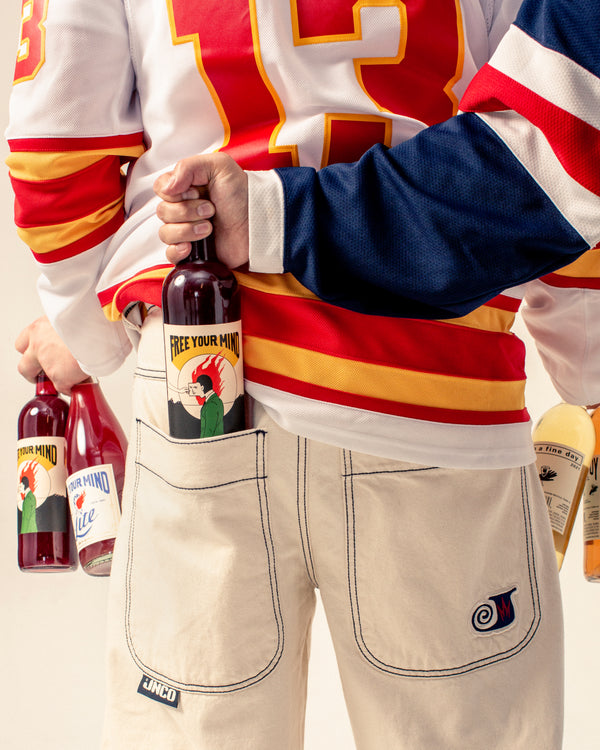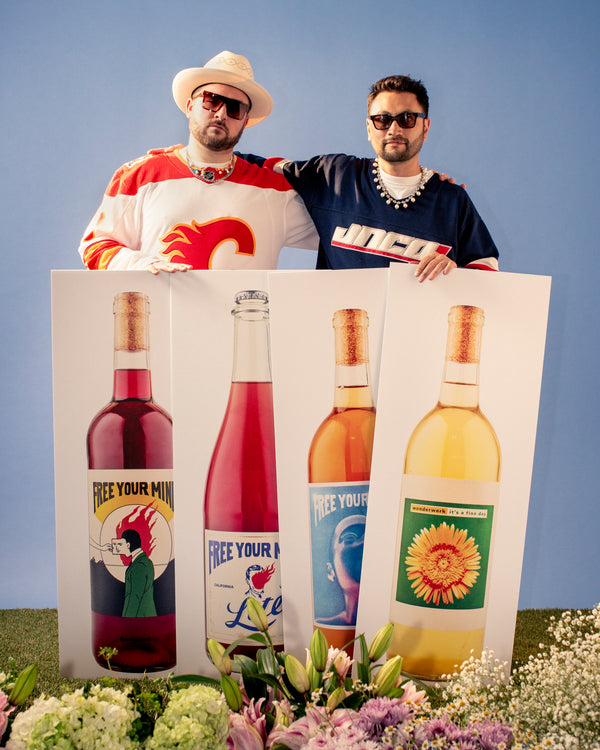 Origin: California
ABV: 11.7%
USNW Classification: Natural
Varietal & Type: 50% Carignan, 50% Riesling 
Vintage: 2022
"Free Your Mind embraces the very best of the weird ideas that flood the mind during harvest. Inspired by George Clinton and the Funkadelic, our present process goes something like this:
Let's co-ferment red and white varieties and marry the varieties thoughtfully -the goal is to develop aromas beyond the sum of their parts. Skin-contact Riesling will play lead guitar and carbonic Carignan will be the rhythm section. "
Winemaking
Carignan 21.4* Brix August 6-12
Riesling 20.7* Brix September 22 
Site & Farming Practices
Sandy Lane Vineyard is located in Antioch, CA between Mt. Diablo and the Sacramento River Delta. Gary Gonsalves farms a few acres of 120-140 year old head-trained vines adjacent to the famed Evangelho Vineyard. The Vineyard is interplanted to Carignan, Mataro, and Zinfandel. These muscular own-rooted vines
strike an iconic silhouette atop 40 feet of pure sand soil and scattered PG&E electrical towers placed under eminent domain. Rugged, scaly, hot, and impossibly sandy - this is a bonafide California terroir. Sandy Lane Vineyard With over 100 years of practice, these vines know how to do their job without much help. Sulfur dust is applied regularly to address mildew pressure. Deficit irrigation is maintained with overhead sprinklers when needed under extreme drought pressure. Deep, pure sand precludes the need for a weed management program. No pre-emergent herbicides or insecticides are used.
Zabala Vineyard Luis Zabala, a 10th generation California farmer (!) tends to over 1,000 acres of Chardonnay, Pinot noir, Riesling, Sauvignon blanc, and Syrah first planted in the 1970s in the dry riverbed of Arroyo Seco (Monterey County). The vineyard is famously windy and cool, which helps retain acidity and
temper sugar accumulation. Alluvial soils are heavily studded with all sizes of round river stones. Zabala Vineyard is a Lodi Rules certified sustainable vineyard that was certified organic in 2010 by the Monterey County Certified Organic Program (MCCO) and California Department of Food and Agriculture (CDFA).

About the Winemaker
Wonderwerk (House of Fermentation) is Issamu Kamide and Andrew Lardy, two high school friends from Virginia seeking new directions in fermentation. They live in Echo Park, LA and make supernatural wines from all over California. They produce and bottle with their own hands and feet. They ride the wavelength from low-intervention to high-innovation, making collaborative ideas come to life in funky new ways. Wonderwerk began as a long night on a disco dancefloor wound down and we didn't want the party to end. Now, it's flowed from there into the wines you see and drink today. Come along for the ride fam, bring your dancing shoes and an open mind, we promise we won't disappoint.