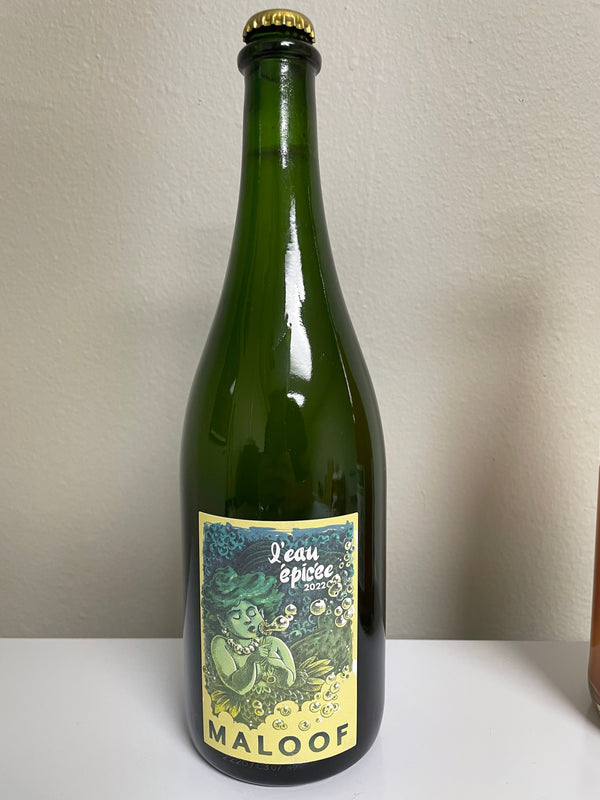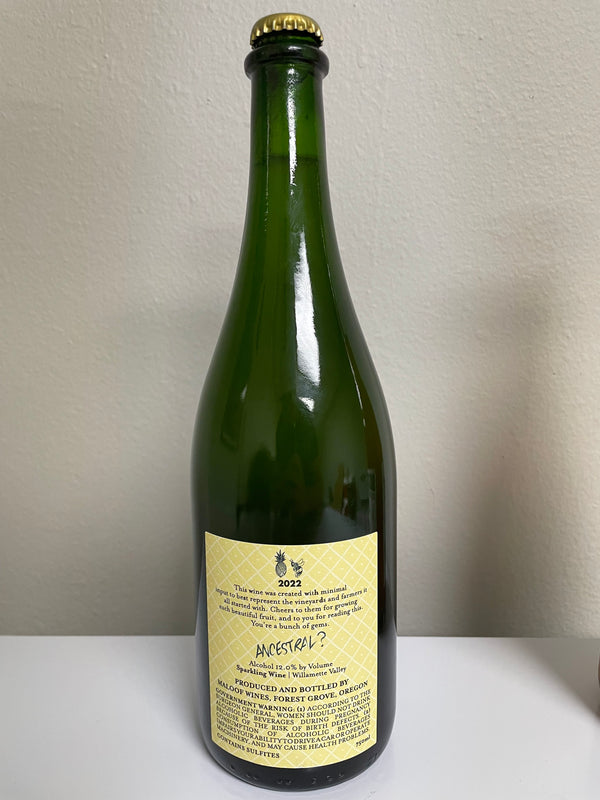 Origin: Oregon
ABV: 12.5%
USNW Classification: Ancestral Method?

Varietal & Type: Riesling, Gewurtztraiminer
Vintage: 2021
Clean and Interesting Pet Nat from Oregon's Maloof Wines. 
"Not quite sure what to call this method of achieving bubble. Ancestral?  Taking suggestions for portmanteaus of Ancestral + Champenoise + Pet Nat.  Maybe, Ancestropetnoise? We essentially made three lots of still wine. Riesling from Beckenridge vineyard was pressed and fermented in neutral 500L puncheons. he gewürztraminer was split into two treatments.  Some of it was direct press and fermented in stainless steel, while a little bit was pulled from our lot of fully macerated gewürztraminer from this site, which was destemmed and fermented on the skins for 20 days before being pressed off and moved into neutral french oak barrels. Once all three lots were dry (The riesling was of course the last, as it finished up in January), we blended into tank, threw in some freshly thawed riesling must that we froze at crush, stirred it up, and bottled it. A couple months later and voila! Bubbs. 65% Riesling, 20% Gewürtztraminier, 15% Skin-contact Gewürtztraminier"
Shipping Details
Ross got into wine through the fine dining world and after one harvest in the Willamette Valley he was hooked. Bee is an aerospace engineer by training and brings some hard science to the team. They started
Maloof
back in 2015 under the tutelage of Brianne Day, making their early cuvees in her facility. Nowadays the brand has found its own home at No Clos Radio in the northwest corner of the Willamette Valley. This own-rooted, old-vine site has become the core of their production. Ross and Bee make wines full of energy, with the number one goal of truly capturing a place and time in each bottle. They work closely with their farmers to achieve this goal, and consider them to be the true inspiration of their work. They are focused on producing single vineyard wines, some fun and funky cuvées of all colors, and have a love affair with Pinot Gris.
Shipping Details
US Natural Wine ships once a week, every Wednesday. All orders should be placed by Tuesday at 10am in order to be picked up from our distributors and out on Wednesday's delivery truck.
Shipping cost is 18 bucks a box (up to 12 bottles) so we highly encourage picking up more than 1 bottle for the best value!
At $18, we have some of the most competitive shipping rates compared to other low-intervention wine e-commerce, which can range from $20-$25 a box. Ultimately, we eat the cost of shipping more often than not because wine can be damn heavy. As a small business, we are simply unable to offer free shipping. We can't thank you enough for your understanding!