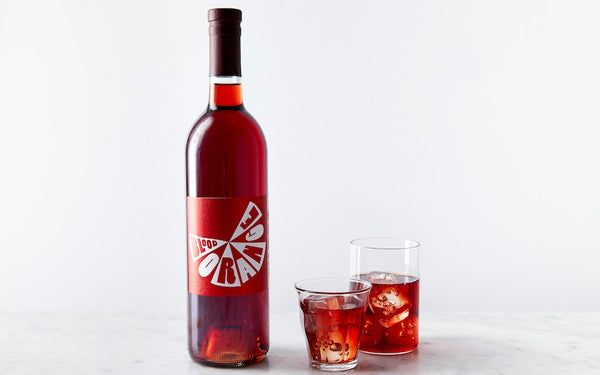 Mommenpop Blood Orange (333ML)
Origin: Napa, CA
ABV: 17%
USNW Classification: Fortified Wine, Aperitif Wine
Varietal & Type: Pinot Noir
Vintage: 2021
SMELLS LIKE // hibiscus, burgundy peppercorn, baking spices
TASTES LIKE // liquid blood orange peel, wild cherries, red berry compote
PAIRS WITH // olives, salami, dark chocolate with sea salt
"

About the Winemaker
 Samantha Sheehan founded POE in 2009 after being inspired by the wines she tasted in Burgundy and Champagne.  The goal is not to replicate Burgundy, but rather create alluring, vineyard specific, age-worthy wines revealing the beautiful terroir of California.  There is minimal intervention, judicious use of sulfur, and never any additives.
POE produces traditional Champagne method sparkling wines, rosé, Chardonnay, Pinot Noir, and a nouveau from Pinot Noir.  Each wine is made in very limited quantities, and sold directly from the winery and to high-end restaurants around the country.
One time per year POE opens its door at the nouveau release and celebration.  We team up with a celebrated local Chef and prepare a meal for the local wine community and our customers.  In keeping with the traditions of Beaujolais Nouveau, we set the date for sometime around the third week of November.
In the spring of 2017, POE teamed up with Farella Vineyard and Forlorn Hope to open a collective tasting room in the heart of downtown Napa. Guests can enjoy glasses, bottles and flights of their favorite POE wines, as well as explore other dynamic selections from both Farella and Forlorn Hope.
Shipping Details
US Natural Wine ships once a week, every Wednesday. All orders should be placed by Tuesday at 10am in order to be picked up from our distributors and out on Wednesday's delivery truck.
Shipping cost is 18 bucks a box (up to 12 bottles) so we highly encourage picking up more than 1 bottle for the best value!
At $18, we have some of the most competitive shipping rates compared to other low-intervention wine e-commerce, which can range from $20-$25 a box. Ultimately, we eat the cost of shipping more often than not because wine can be damn heavy. As a small business, we are simply unable to offer free shipping. We can't thank you enough for your understanding!