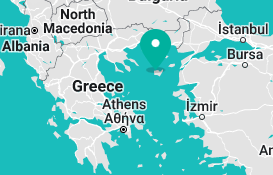 Origin: PDO Lemnos, Greece
ABV: 12.5%
USNW Classification: Natural
Varietal & Type: Muscat of Alexandria 100%
Vintage: 2021
Terra Ambera refers to the orange sulphuric volcanic soil of Lemnos island, with an orange wine of organic Muscat of Alexandria. 5 days of skin contact in stainless steel, at a mildly controlled temperature, wild fermented and bottled with minuscule sulfites. Typical aromatic profile of Muscat, with slight oxidative nuances, and a round and sharp palate with generous fruit.
About The Winemaker
Manolis Garalis is a third generation wine grower. With an ambition to see his high quality organic grapes turned into first class wine, he launched his own winery in 2006 and released his first wines in 2007. He cultivates Lemnos island's Limnio and Muscat of Alexandria, organically (certified), in 5 hectares of sulphuric volcanic soil.
Limnio is the oldest referenced grape in the world, as mentioned by Aristotle, Homer and other ancient Greek philosophers as "Limnia Ampelos", and has been on the island for thousands of years. Muscat of Alexandria has become the main grape since the 1920's, when brought by Lemnian immigrants from Egypt.
Lemnos is a volcanic island, and Garalis' approach is "hands-off" without any addition of yeasts or other additives, to express this unique terroir in its pure form.
Shipping Details
US Natural Wine ships once a week, every Wednesday. All orders should be placed by Tuesday at 10am in order to be picked up from our distributors and out on Wednesday's delivery truck.
Shipping cost is 18 bucks a box (up to 12 bottles) so we highly encourage picking up more than 1 bottle for the best value!
At $18, we have some of the most competitive shipping rates compared to other low-intervention wine e-commerce, which can range from $20-$25 a box. Ultimately, we eat the cost of shipping more often than not because wine can be damn heavy. As a small business, we are simply unable to offer free shipping. We can't thank you enough for your understanding!