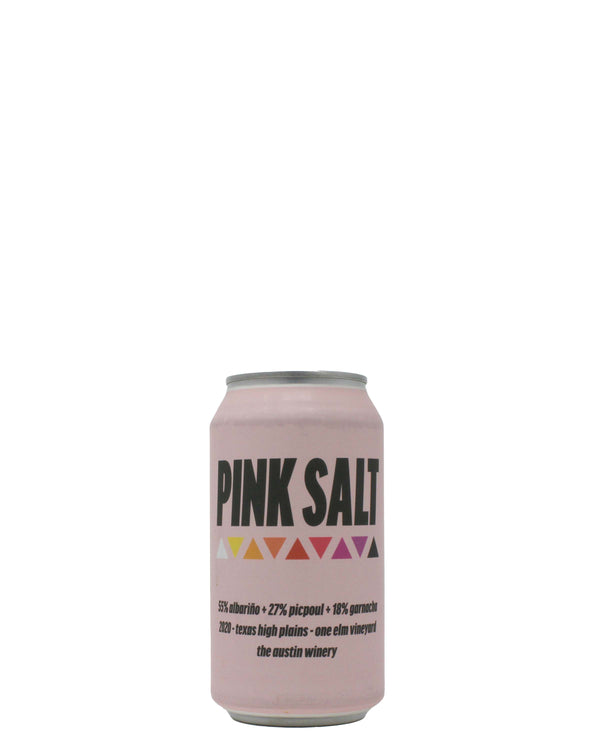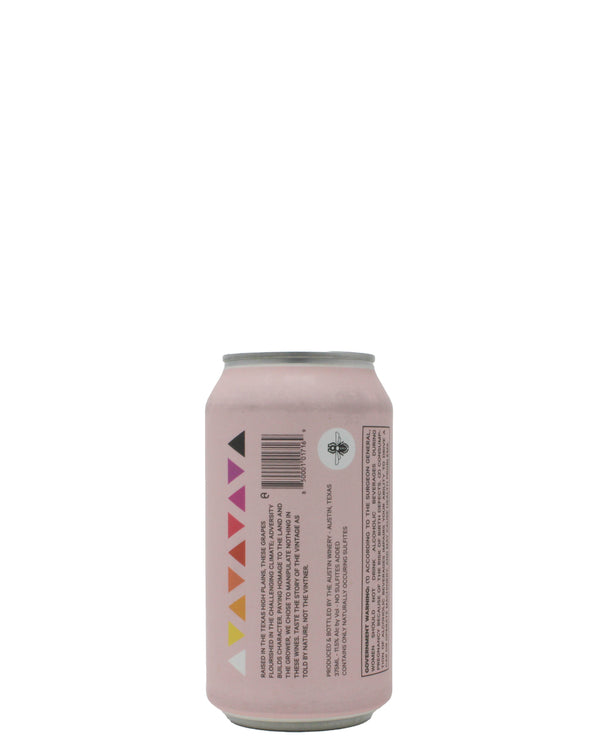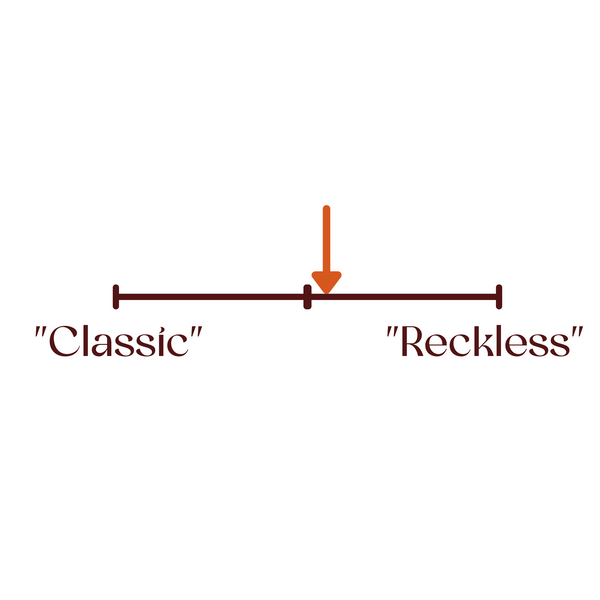 Complex co-fermented "Rose" in a can. Unlike any rose you've ever had... in a good way.
Origin: Austin, TX, USA
ABV: 11.5%
USNW Classification: Natural, Zero/Zero
Varietal & Type: 52% ALBARIÑO (SKIN FERMENTED), 18% PICPOUL (BARREL FERMENTED), 30% GARNACHA (CARBONIC)
Vintage: 2021
Vineyard

TEXAS HIGH PLAINS - ONE ELM VINEYARD 
About the Winemaker
Ross, Cooper, and Matt founded The Austin Winery in May 2014, establishing the first full production, grape to glass winery inside Austin city limits. Ross and cooper cut their teeth in cellars, tasting rooms, equipment warehouses, and brokerage for years before opening. After producing two red blends to wide applause, matt smith joined the team to add necessary structure to the Austin winery. The young team proved their concept with 3 years of busy tasting room traffic and wholesale distribution out of an industrial warehouse.
In May 2017, the Austin winery moved its operation to the newly built out development, the yard, at 440 e. St Elmo Rd A1, 78745. This move opened a new chapter in the history of the winery. It was the first year producing wine with fruit exclusively grown in Texas. All subsequent vintages have been 100% Texas fruit. All future vintages will be produced in this manner, to best show case the quality and character of Texas terroir. The winery's case production has grown nearly 200%, facilitated by critical additions in new equipment and team members. 
With the move to south Austin, the winery is taking a bigger role shaping the greater Austin community. Open six days a week, wine club members are encouraged to swing by after work for a glass and sit down to chat with a winemaker or another member of the team. On weekends, the winery hosts a larger, more diverse crowd, aiming to bring more Texas wine-lovers into the fold with friendly service and frank educational conversations. Regular dining and craft pop-ups and charity events add depth and value to the winery's impact on its community.

"We are Austinites just like you. We love the energy and passion and drive of Austin and want to make our mark on the city with your help. Come have a glass and find out what we're about."
Shipping Details
US Natural Wine ships once a week, every Wednesday. All orders should be placed by Tuesday at 10am in order to be picked up from our distributors and out on Wednesday's delivery truck.
Shipping cost is 18 bucks a box (up to 12 bottles) so we highly encourage picking up more than 1 bottle for the best value!
At $18, we have some of the most competitive shipping rates compared to other low-intervention wine e-commerce, which can range from $20-$25 a box. Ultimately, we eat the cost of shipping more often than not because wine can be damn heavy. As a small business, we are simply unable to offer free shipping. We can't thank you enough for your understanding!