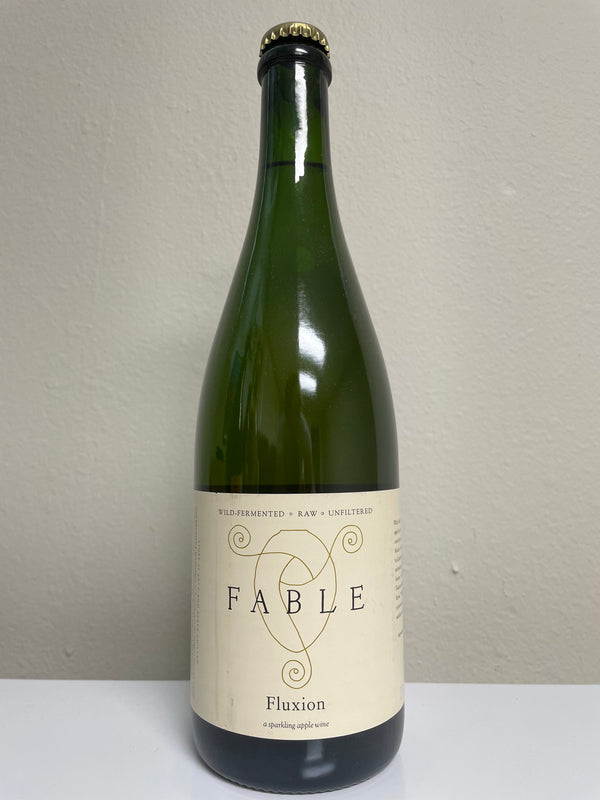 LIVING CIDER. Vermont Terrior across the board. This beautiful and easygoing cider combines wild foraged apples from 2018 and 2019 in a solera style blend aged in wood barrels. Maple Syrup was used to start secondary fermentation in bottle.

Origin: Vermont
ABV: 7%
USNW Classification: Natural
Varietal & Type: Forged Apples, Maple Syrup
Vintage: 2018+2019
About the Winemaker
:"In the fermentory we create living wines from local fruits, herbs, saps, and honey. As farmer-winemakers, we embrace the local ecology of all life — from flora to microbes — as the create the character of our elixirs.
We're committed to native yeast fermentation, which we believe allows the wine to better reflect the place from which it rose. We don;t filter or use sulfites. After fermenting our ciders dry, we send them to the cave to cure and mature through a species succession of microorganisms in both barrel and bottle. Ciders that are alive mature into an extremely diverse continuum of flavors and will evolve from year to year.
We use neutral oak barrels, stainless steel, and glass as mediums for fermentation, with a heart open to the future use of clay qvevris. Our ciders range from sparkling — employing both the ancestral and traditional methods — and still, some of which are fermented with extended skin contact, and are infused with whole botanical infusions that we harvest from our farm and forage: such as elderflower, currants, or dandelion, to name a few.
We also have begun making meads using birch and maple saps as their base, as well as grape wines that are currently barrel aging. With a cave full of wines made from local sugar ssources, we have fun blending various versions of old world wines such as Cysers (honey-apple wines), Acerglyns (honey-maple wines), and Pyments (honey-grape wines). The potential is unlimited.
While our nursery trees continue to take root for future harvests, we make our ciders from wild, abandoned, and cultivated trees found throughout our farm and neighboring fields, forests, backyards, and orchards."
Shipping Details
US Natural Wine ships once a week, every Wednesday. All orders should be placed by Tuesday at 10am in order to be picked up from our distributors and out on Wednesday's delivery truck.
Shipping cost is 18 bucks a box (up to 12 bottles) so we highly encourage picking up more than 1 bottle for the best value!
At $18, we have some of the most competitive shipping rates compared to other low-intervention wine e-commerce, which can range from $20-$25 a box. Ultimately, we eat the cost of shipping more often than not because wine can be damn heavy. As a small business, we are simply unable to offer free shipping. We can't thank you enough for your understanding!