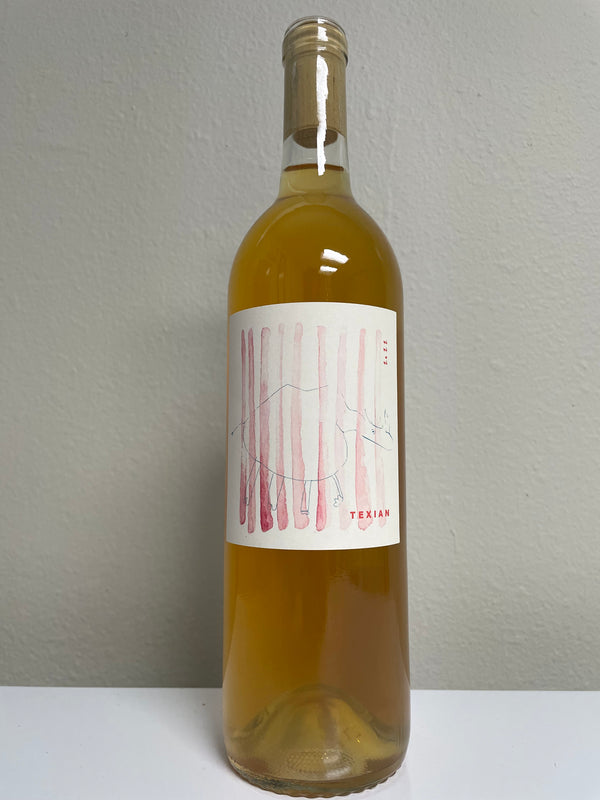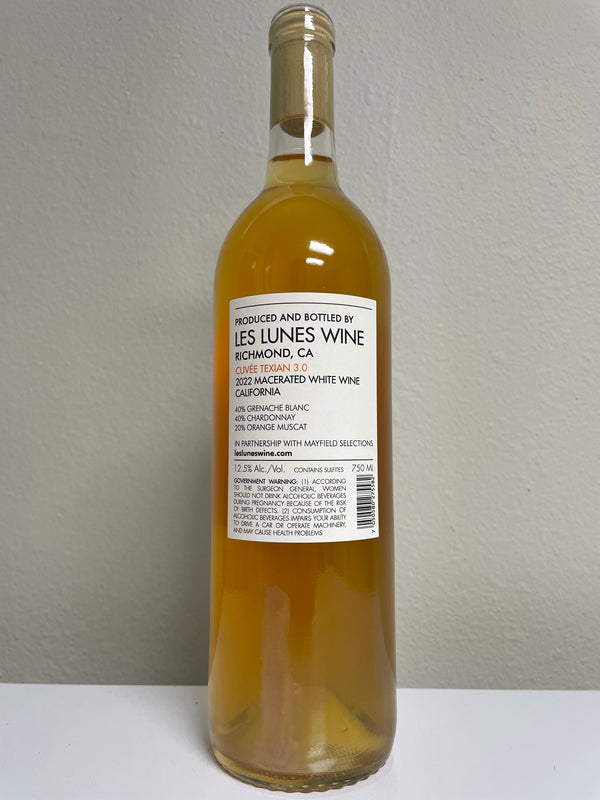 Populis Texian Orange 2022
Les Lunes and our Texas Distributor Partners David Mayfield Selections partnered up on creating a orange blend meant to be enjoyed in Texas Weather. It is currently only distributed to Texas, but lucky you, if you're on the site and in one of the 35 states we ship to, it is available to you as well.
Origin: Mendocino, CA
ABV: 12.5%
USNW Classification: Natural
Varietal & Type: 65% Muscat, 20% Chardonnay, 10% Grenache Blanc
Vintage: 2022
About the Winemaker
Shaunt Oungoulian and Diego Roig produce two wines, Populis and Les Lunes Wine. With Populis, they purchase grapes from historic viney buards and multi-generational growers from Mendocino County. These wines are fresh, lively, fruit forward, and made in a playful style. In addition to making wine, they farm and manage over 8 ha of vineyards in Sonoma and Napa and are committed 100% to organic farming and restoring and preserving older and historic vineyards in those counties. Their Les Lunes Wines are made from these vineyards and the top sites from their growers in Mendocino County. The Les Lunes Wines show the more classic, refined, elegant, and ageable side of natural wine.

Their facility is literally the basement of Shaunt's parents' house in Orinda, just east of Berkeley. This allows them to produce wine without the interference of other wineries' yeasts or influences as well as allowing them to age their wine for multiple vintages before release if needed.

They are absolutely 100% committed to farming and producing wines organically. They make no additions to the wines save for a small dose of sulfur before bottling if needed, as determined on a barrel by barrel basis.
Shipping Details
US Natural Wine ships once a week, every Wednesday. All orders should be placed by Tuesday at 10am in order to be picked up from our distributors and out on Wednesday's delivery truck.
Shipping cost is 18 bucks a box (up to 12 bottles) so we highly encourage picking up more than 1 bottle for the best value!
At $18, we have some of the most competitive shipping rates compared to other low-intervention wine e-commerce, which can range from $20-$25 a box. Ultimately, we eat the cost of shipping more often than not because wine can be damn heavy. As a small business, we are simply unable to offer free shipping. We can't thank you enough for your understanding!