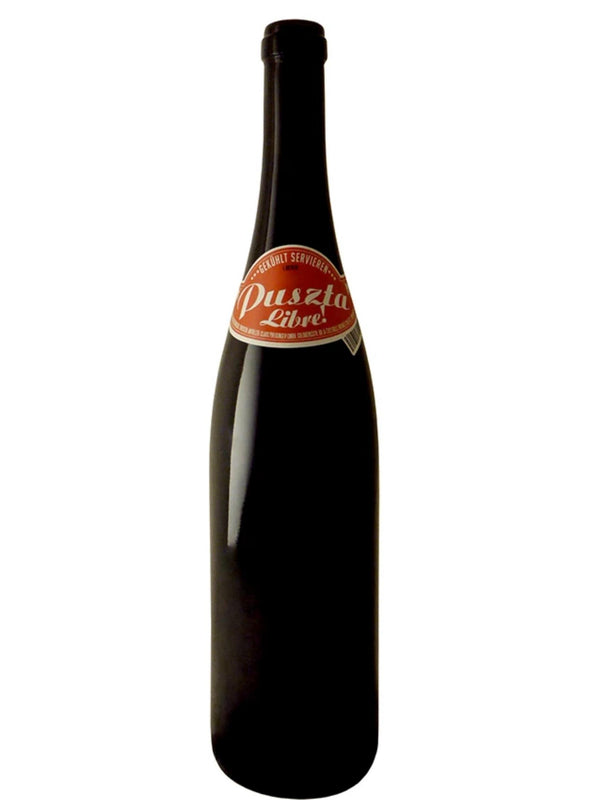 This is our everyday and every occasion wine at USNW.  Beaujolais-style Austrian red from renowned producer Claus Preisinger. Fruit forward with noticeable minerality. A perfect, light, introductory red. 
BEST ENJOYED CHILLED
Origin: Austria
ABV: > 12%
USNW Classification: Natural, Biodynamic farming
Varietal & Type: 60% Zweigelt, 20% St. Laurent, 20% Pinot Noir
Vintage: 2020
Tasting Notes
Delicate tannins and a vibrant red and black berried fruit character

Pairings
Another Glass of Puszta Libre!
About the Winemaker
A surfer at heart, Claus Preisinger has been making wine on the north shore of Lake Neusiedl in the Burgenland town of Gols since 2002. He converted the vineyards and winery to biodynamic production in 2006, and is Respekt Biodyn certified. Claus vinifies mostly domestic grape varieties such as Blaufränkisch, Zweigelt, Grüner Veltliner and St. Laurent,  supplemented by Pinot Noir and Pinot Blanc from both the west and east sides of Lake Neusiedl. Claus does not use any cultivated yeast, and only very slight or no dosing of sulphur dioxide. He ages many of his wines in amphora rather than wooden barrels, which he views as a conscious step back, a reduction to the essential - the grape and the soil. Reduction, minimalism and a free spirit are the guiding themes of Claus Preisinger.
Shipping Details
US Natural Wine ships once a week, every Wednesday. All orders should be placed by Tuesday at 10am in order to be picked up from our distributors and out on Wednesday's delivery truck.
Shipping cost is 18 bucks a box (up to 12 bottles) so we highly encourage picking up more than 1 bottle for the best value!
At $18, we have some of the most competitive shipping rates compared to other low-intervention wine e-commerce, which can range from $20-$25 a box. Ultimately, we eat the cost of shipping more often than not because wine can be damn heavy. As a small business, we are simply unable to offer free shipping. We can't thank you enough for your understanding!