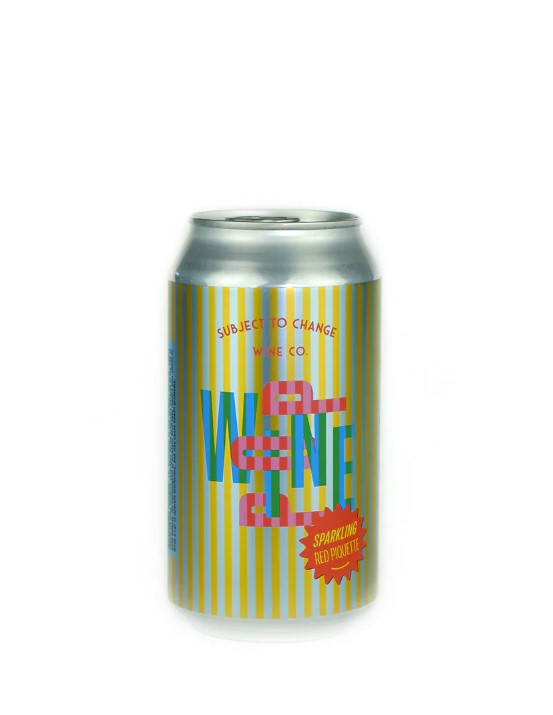 2021 'Wine Pop' Sparkling Red Piquette Cans
Origin: Mendocino County, CA
ABV: 7%
USNW Classification: Natural Piquette
Varietal & Type: EVERYTHING... Syrah, Cabernet, Zinfandel, Muscat, Viognier, Grenache, Mourvedre, Counoise, Picpoul, Roussanne, Carignan, Chenin Blanc, Petite Sirah, Sauvignon Blanc, Merlot
Vintage: 2021
BEST ENJOYED CHILLED
The Subject to Change team nailed sustainability this year, essentially taking an entire harvest worth of Grape Pomace and making copious amounts of delicious Piquette. Consisting of twelve different varietals both red and white, this beverage brings a unique complexity in a small chuggable format.  Grab these for your next BBQ, enjoy them by the pool, or sneak them into your favorite music venue. 
"We've been working on these cans for a few years now. We've always dreamed of an on the go, low alcohol, fizzy beverage that you can pop into a backpack or purse and hit the road. Great for all things adventure and outdoor or an easy drink to pop after work for a casual sip. Serve Ice Cold."
Shipping Details
 US Natural Wine ships once a week, every Wednesday. All orders should be placed by Tuesday at 10am in order to be picked up from our distributors and out on Wednesday's delivery truck.
Shipping cost is 18 bucks a box (up to 12 bottles) so we highly encourage picking up more than 1 bottle for the best value!
At $18, we have some of the most competitive shipping rates compared to other low-intervention wine e-commerce, which can range from $20-$25 a box. Ultimately, we eat the cost of shipping more often than not because wine can be damn heavy. As a small business, we are simply unable to offer free shipping. We can't thank you enough for your understanding!