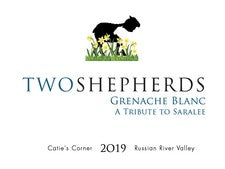 2019 Tribute to Saralee Grenache Blanc
Origin: Sonoma County, CA (Catie's Corner Vineyard)
ABV: 13.1%
USNW Classification: Natural
Varietal & Type: 100% Grenache Blanc
Vintage: 2019
A very special wine from end to end. It is possible that you may have not experienced a Grenache Blanc with such a beautiful expression. 
Aged 3+ years in bottle before release.
In tribute to Saralee McClellan Kunde, a now deceased Sonoma Icon, who grafted this acre of Grenache Blanc (the first of its AVA), so that William and Karen could make this wine.
Fresh, vibrant, with lots of salinity and minerality.
Winemaking Notes
The grapes are destemmed and well crushed, to maximize skin contact, and remain on the skins 2-4 hours. They are then pressed directly to fermentation vessels without settling and remain on the heavy lees for 5 months.

Primary fermentation occurs naturally with no additions, indigenous yeast, and native Malolactic, in 2/3 neutral barrels for texture and complexity, and 1/3 stainless barrels for freshness and aromatics. Total elevage was 7 months, racked twice for May 2019 bottling, with no fining, filtration, or additions other than a small amount of SO2.
The Grenache blanc is purposefully bottle aged, 3+ years before release. While this adds to our cost, this time in bottle allows the wine to transform from simply bright and fresh, to much more layered complexity and enhanced salinity, minerality. The result is one of the most complex Grenache blancs made in California, with intense aromatics, like an aged fine Riesling.
Vineyard Notes
This vineyard is very special to William and Karen. Saralee McClellan Kunde, a now deceased Sonoma icon, grafted it for them specifically in 2011, and it was the first acre planted in the AVA, and we they were the first in the history of the Russian River to harvest Grenache Blanc in 2013. The vineyard is named after her daughter Catie, whom it now belongs to. Saralee in her youth is still remembered for covering Sonoma County in daffodil plants, thus our front logo variant.

Shipping Details
US Natural Wine ships once a week, every Wednesday. All orders should be placed by Tuesday at 10am in order to be picked up from our distributors and out on Wednesday's delivery truck.


Shipping cost is 18 bucks a box (up to 12 bottles) so we highly encourage picking up more than 1 bottle for the best value!

At $18, we have some of the most competitive shipping rates compared to other low-intervention wine e-commerce, which can range from $20-$25 a box. Ultimately, we eat the cost of shipping more often than not because wine can be damn heavy. As a small business, we are simply unable to offer free shipping. We can't thank you enough for your understanding!