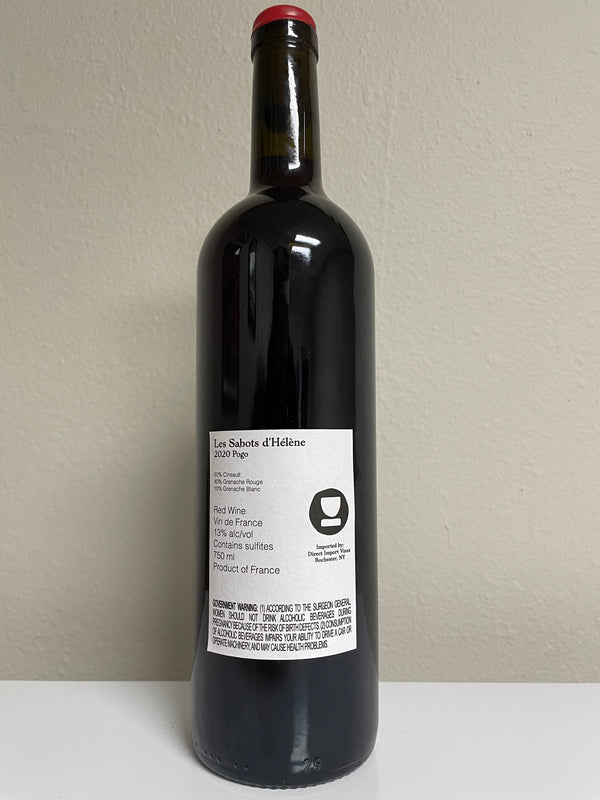 Origin: Roussillon, France
ABV: 13%
USNW Classification: Natural, 0/0
Varietal & Type: Cinsault, Grenache, Grenache Blanc
Vintage: 2020
Gorgeous Roussillon blend of Cinsault, Grenache, and Grenache Blanc by Les Sabots d'Helene. This is one of our favorite wines of the year. Alban's wines are so energic yet delicate that you will instantly become a fan and be seeking for more. Must have.

About the Winemaker
"Alban Michel created the winery Les Sabots d'Hélène in 2005. It is a small 5 hectare vineyard located in the Corbières seaside in the Languedoc-Roussillon region. The vineyards are grown entirely organically and are completely isolated with no neighbors around them.
Alban is committed to a policy of low yield, manual harvesting, picking when slightly under mature, very gentle extractions in vinification which best respects the balance of the grape and the quality of the fruit.
Alban cultivates very old vines. The Syrah is 30 years old and the Carignan and Grenache 50 to 100 years. They are located in two places: Les Hourtoux and Terres Nègres, in Feuilla.
It is in a wild and deserted landscape of the Corbières, among invasive vegetation and collapsed stone walls that Alban Michel, native of Vosges, found his way and his promised land in Feuilla. His 5 ha of vines (rented) are spread over 8 plots, including one hectare from 1906 which produces up to 5hl" - Chris Camo 

Shipping Details
US Natural Wine ships once a week, every Wednesday. All orders should be placed by Tuesday at 10am in order to be picked up from our distributors and out on Wednesday's delivery truck.
Shipping cost is 18 bucks a box (up to 12 bottles) so we highly encourage picking up more than 1 bottle for the best value!
At $18, we have some of the most competitive shipping rates compared to other low-intervention wine e-commerce, which can range from $20-$25 a box. Ultimately, we eat the cost of shipping more often than not because wine can be damn heavy. As a small business, we are simply unable to offer free shipping. We can't thank you enough for your understanding!