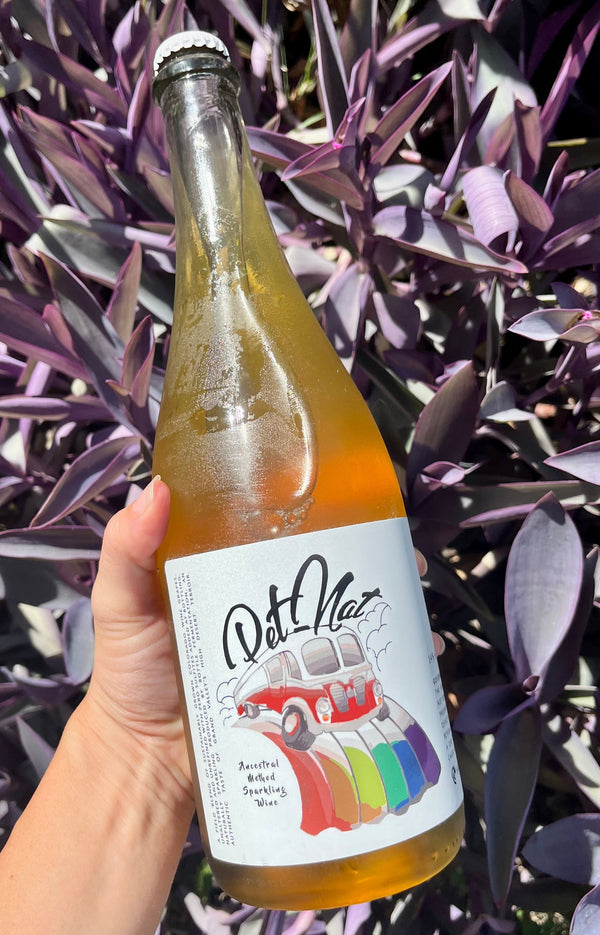 Origin: Palisades, Colorado
ABV: 14%
USNW Classification: Natural
Varietal & Type: Aromella, Black Muscat, Grüner, & Vignoles
Vintage: 2021
A mélange of 4 aromatic grapes which lend their unique character to the ancestral method of sparkling wine. Notes of citrus and stewed quince aromatics grace this
medium bodied wine with a medium plus acidity. Flavors of pineapple, grapefruit,
and fresh squeezed orange juice.
BEST ENJOYED CHILLED
Winemaking
Stainless steel fermented. Frizzante, unrefined, and with no added sulfites. Lightly sparkling from the ancestral method technique. Aged entirage (on the lees) after bottle
fermentation. No disgorgement and zero dosage added.
Food Pairings
triple crème cheese, salted nuts, green curry, Thai chicken, kettle cooked potato chips, truffle herb risotto, sushi, duck confit, lobster roll, artichoke dip.
Shipping Details
 **DURING THE SUMMER MONTHS, WE HAVE AN UPGRADED, INSULATED SHIPPING MATERIAL TO PREVENT DAMAGING THE WINE IN TRANSIT. THIS INCREASES SHIPPING TO $30/ BOX TEMPORARILY UNTIL THE WEATHER COOLS DOWN. **
US Natural Wine ships once a week, every Wednesday. All orders should be placed by Tuesday at 10am in order to be picked up from our distributors and out on Wednesday's delivery truck.
Shipping cost is 18 bucks a box (up to 12 bottles) so we highly encourage picking up more than 1 bottle for the best value!
At $18, we have some of the most competitive shipping rates compared to other low-intervention wine e-commerce, which can range from $20-$25 a box. Ultimately, we eat the cost of shipping more often than not because wine can be damn heavy. As a small business, we are simply unable to offer free shipping. We can't thank you enough for your understanding!